We offer this beginner grow system specifically for the new grower.  This kit is complete and ready to grow, no gimmicks – just the best of the basics.  
You get the BlackOrchid grow tent which provides the perfect environment for a grow area – no holes to drill, no lumber to buy, no tools whatsoever needed to assemble.  Also included is our 600 watt grow light which provides the energy for your plants to grow.
Not only is the 600w HPS Grow Light the right sized light for this grow tent, it's unsurpassed reliability has proven itself as THE top selling, top performing and most reliable grow light on the market place – over 25,000 sold!  The pots are big 15 litre ones that will support nice, fat plants.
The specially formulated organic SOIL and organic NUTRIENTS are safe and easy to use!  Organically grown fruits, flowers and vegetables are recognized as the most healthy, most tasty and most sought after product available.  Air Ventilation, Circulation and temperature are all taken care of with this kit.  We want you to be successful.  We want you to grow the BEST PLANTS POSSIBLE!  You CAN DO IT with this kit!
Grow tent:
Carbon Filter:
100mm 4″ dia connection
250mm long
will handle up to 200 m3/hour of air
Extra virgin activated carbon
Extractor Fan:
100mm 4″ dia connections
Vents TT-100 mixed flow fan capable of up to 187 m3/hour of airflow
33w running current
Plug & Play!! UK plug & lead supplied & fitted – no wiring needed.
35 dB(A) sound level at 3m distance from the fan
Reflector
Traditional Euro Barn Reflector
Highly reflective hammered finish
Ceramic lamp holder
Lead and IEC connector to plug in to ballast
Lamp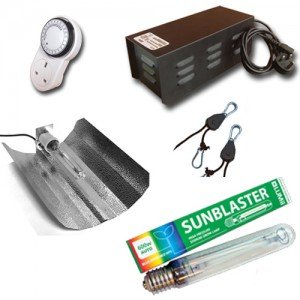 Branded 'Buddy-Products' traditional tubular sodium high intensity discharge lamp
Suitable for vegetative and bloom stage of a growing cycle
Ballast
Strong, metal vented high quality lighting ballast
600w output
Fitted with UK plug
Rest of kit
1 X 50L BAG OF BIOBIZZ LIGHT MIX ORGANIC SOIL
1 X 1L BIOBIZZ GROW NUTRIENT
1 X 1L BIOBIZZ BLOOM NUTRIENT
1 X 500ML TOP MAX BLOOM STIMULATOR
5 X 1L ROUND POTS TO START THEM OFF IN
5 X 10L ROUND PLASTIC POTS
5 X SAUCERS FOR POTS
100mm 4″ dia aluminium ducting – 5m long
3x worm price clips
1 roll of aluminium duct tape (10m)
Pair of rope ratchet lighting hangers
24 hour segmented plug-in timer
Do you want it?
Grow Genius Guarantee