What could you possible need for growing plants indoor? We'll answer it for you, all you need is this amazing grow kit. It is small, compact and chock full of all the basic necessities you really need in a growing kit.
This growing kit has a compact and small sized tent with the dimensions 100x100x200cm. As such the package included in this kit and the particular mixture of various items and bonus elements are all with respect to the small size of the kit.
The full list of the various components of this grow kit is:
A black orchid light tent with a completely reflective interior to maximize light usage inside the tent and help plants absorb light from all possible angles

A carbon filter with activated carbon, to be used with an extractor kit. They serve by ventilating the place and removing all the bad smells and horrible odors.

A lamp with a 600w output which is designed for the vegetative and bloom stages in a plant's life.

5 round pots to fill up and start growing your mini garden

50Litres of Bio bizz light mix organic soil which you can use as a growing medium or your plants.

A bottle of growth nutrients and bloom stimulator
All in all, the perfect package to simply buy and start growing plants.
Grow tent:
Carbon Filter:
100mm 4″ dia connection
250mm long
will handle up to 200 m3/hour of air
Extra virgin activated carbon
Extractor Fan:
100mm 4″ dia connections
Vents TT-100 mixed flow fan capable of up to 187 m3/hour of airflow
33w running current
Plug & Play!! UK plug & lead supplied & fitted – no wiring needed.
35 dB(A) sound level at 3m distance from the fan
Reflector
Traditional Euro Barn Reflector
Highly reflective hammered finish
Ceramic lamp holder
Lead and IEC connector to plug in to ballast
Lamp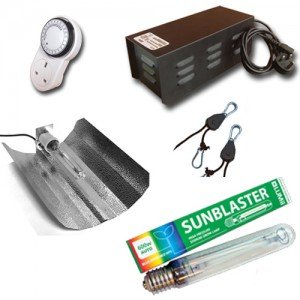 Branded 'Buddy-Products' traditional tubular sodium high intensity discharge lamp
600w output
Suitable for vegetative and bloom stage of a growing cycle
Ballast
Strong, metal vented high quality lighting ballast
600w output
Fitted with UK plug
Rest of kit
1 X 50L BAG OF BIOBIZZ LIGHT MIX ORGANIC SOIL
1 X 1L BIOBIZZ GROW NUTRIENT
1 X 1L BIOBIZZ BLOOM NUTRIENT
1 X 500ML TOP MAX BLOOM STIMULATOR
5 X 1L ROUND POTS TO START THEM OFF IN
5 X 10L ROUND PLASTIC POTS
5 X SAUCERS FOR POTS
100mm 4″ dia aluminium ducting – 5m long
3x worm price clips
1 roll of aluminium duct tape (10m)
Pair of rope ratchet lighting hangers
24 hour segmented plug-in timer
Do you want it?
Grow Genius Guarantee