Large Led Grow Tent kit
The Large Led Grow Tent kit includes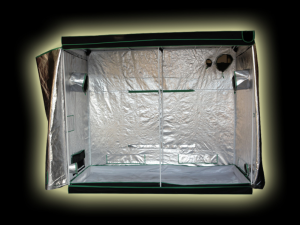 A choice of 200x200x200cm or 240x120x200 grow tents as standard, that can fit anything up to 20 plants or more. Fully reflective mylar inside with steel bars for sturdy construction the grow tent is easy to put up and take down. Also features plenty access points for ducting and cables.
The Lighting:
Choice Of Top Quality Led lights LED grow lights example above, that includes:
Light Hanging Kits (Yoyo's & Rope Ratchet Hangers)
Heavy Duty Segmented Plugin Timers
Extraction & Filters:
For optimum grow conditions we also include a 100mm (4″) extractor fan coupled with a large 200mm premium activated carbon filter. Excess heat can also be dealt with with an additional intake fan.
The basics:
The Large Led Grow Tent kit is an ordinary yet extraordinary grow tent kit. It is meant to fulfill all and more of the perks and purposes of a grow tent and help you easily grow your favorite plants in a concise and small easy to manage place.
The most important aspect of this particular kit is its sheer tent size. But it also contains a whole lot of other qualities
The quality grow tent is massive and yet easy to set up
The tent sports 95% reflective walls which are made light proof material to maximize growth results.
The tent comes equipped with vents for installing the fan kit and hanging bars
The additional parts:
The Quality grow tent also comes with a 4″ intake fan and also include a Clip on fan to improve air circulation and an odour spray
Quality assurance:
This extra Large grow tent kit includes the best quality products from Budda room tent to the Mars Hydro Led light kits, this kit is definitely premium material. The kit contains official logos embossed for quality assurances.
Intake Fan for Dealing with Excess Heat
Light Hangers
Timers
Clip on fan
Odour spray
OPTIONAL EXTRAS:
Now you can get A COMPLETE GROWING SYSTEM with our optional extras, choose from hydroponics or soil:
Complete soil/coco growing system with pots, soil & nutrients
Complete NFT hydroponics system with nutrients for super yields
All our professional grow kits come with these added extras:
Hydrometer for measuring temperature & humidity
Are you ready to grow ? Select your options below:
Light options are for those lights only so some will be 2 x and some 1 x the lights.
The standard kit comes with 2 x 600w led Full Spectrum grow lights and image is for illustration purposes only.